MSFS2020
TOUCH PORTAL
Touch Portal: Example page created for MSFS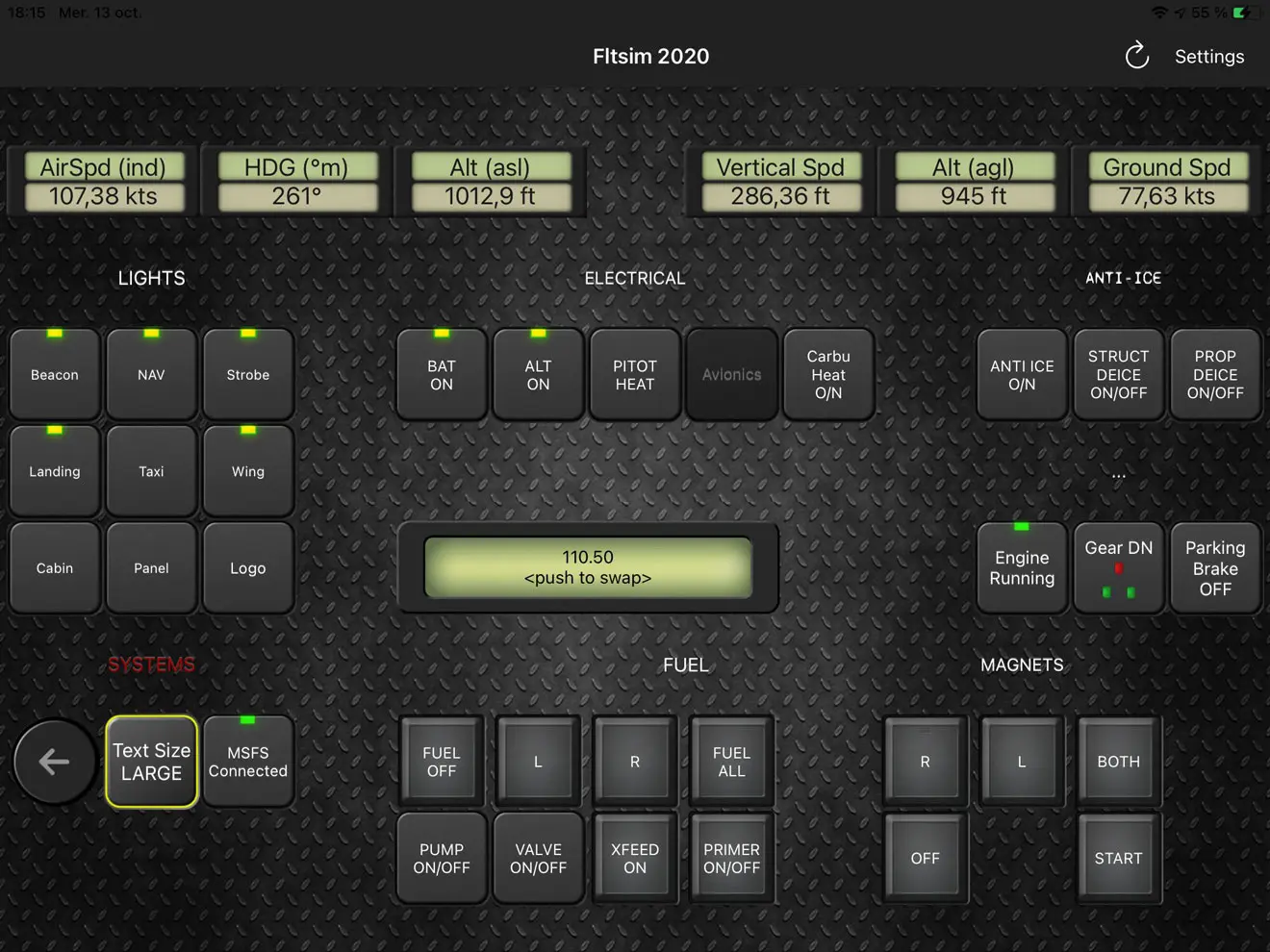 Description
This Touch Portal page aims to show some of the possibilities of the software (Pro version) with FS2020. It includes elements from other pages found on the internet (see acknowledgments).
It shows that this product works in communication with the simulator (via SimConnect) in both directions:
1 - when pressing the buttons on the tablet (Apple or Android), the corresponding buttons are animated in the cockpit and the same functions are launched
2 - when the cockpit buttons are manipulated, those on the tablet also display the change of position by a specific display (LED on or not).
Also displays information on the flight (altitude, heading, speed ...) and therefore avoids the display of instruments on the screen when you are in an external camera.
A "warnings" zone in the center displays the COM frequency or certain (5) malfunctions.
Point 2 is used to view on a tablet, for example, the ON / OFF position of buttons that are not in the piloting window (Head panel or bottom of the dashboard).
The attached .TPZ file is an example of what can be done with Touch Portal for MSFS.
Some are found in practically all airplanes (Lights, Electrical), others are more specific to single propeller engines (Magnets, Fuel) or are variable according to the devices (Anti-Ice, ...).
Finally, some "technical" buttons: return to the "(main)" page, change the size of the titles of the button areas or check if the simulation is started or not (System).
NB: with the tutorial on creating pages and buttons, you can easily adapt this page to your liking: https://www.simvol.org/articles/tutoriels/touch-portal-creation-page-boutons (in French)
Prerequisite: to use this page, you must have installed the following elements (installation explanations are in the tutorial on this page: https://www.simvol.org/en/articles/tutorials/use-touch-portal).
- Touch Portal Pro on the PC downloadable from the site https://www.touch-portal.com
- The MSFS icon pack downloadable from the same site
- Touch Portal Pro on the tablet in the Apple Store or the Play Store
- The Touch Portal plugin for MSFS downloadable here: https://github.com/Touch-Portal-MSFS/MSFSTouchPortalPlugin
Once the above software and products have been installed (see the aforementioned tutorial), all you have to do is install the .tpz file as indicated in the tutorial (directly from the Touch Portal window).
Thanks to the creators of the following pages:
- FltSim-msfs2020-Control
- touch-portal-page-piston-single
Above is the page displayed on the tablet (C172 in flight).