MSFS2020
TOUCH PORTAL
Touch Portal: Special page for A32NX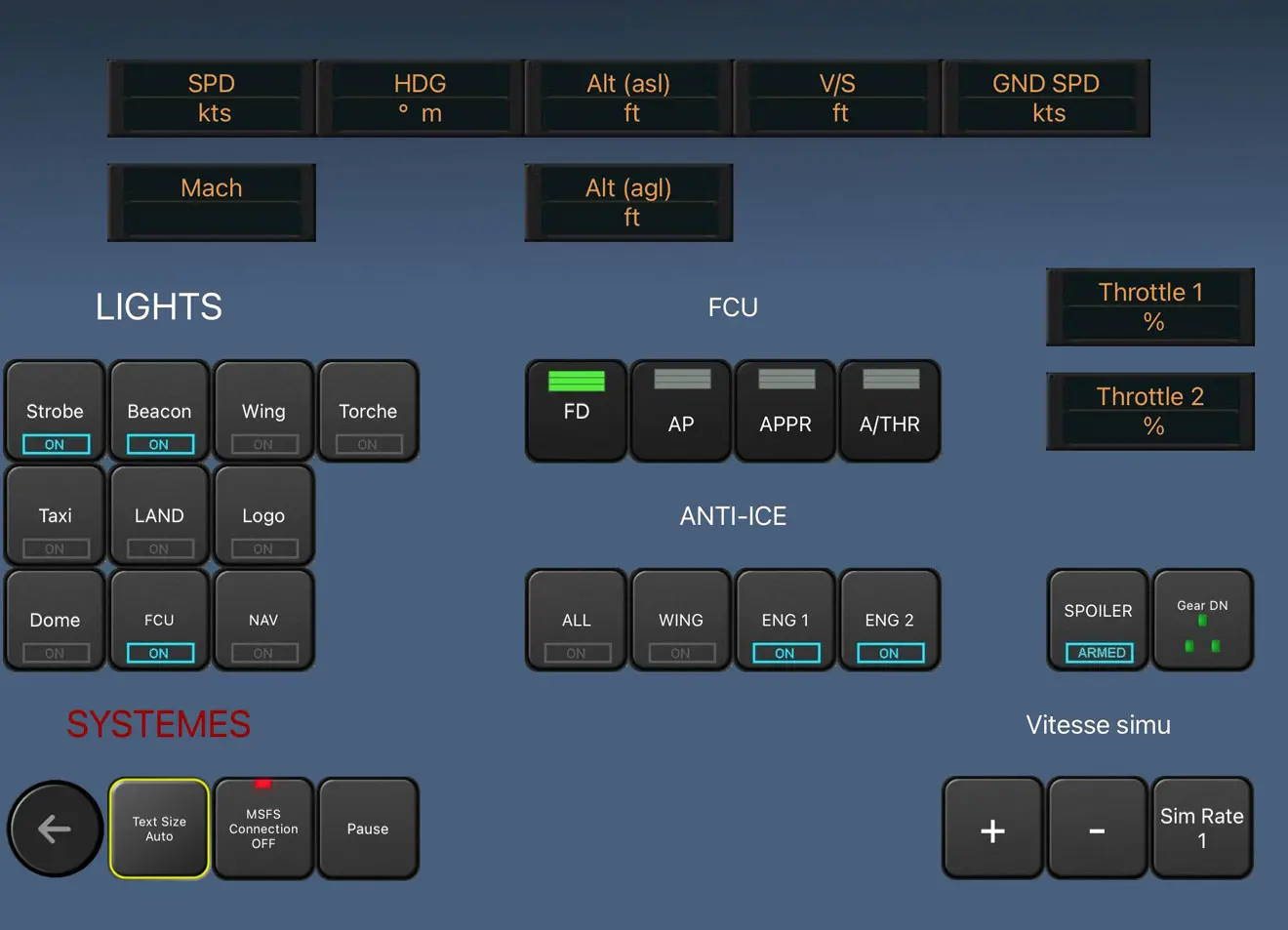 Description
Reminder : Touch Portal is software that allows you to use a smartphone or tablet (Android, Apple) as a touch keyboard with keys programmed to perform specific functions on a PC or Mac. It can be used with any software that has functions using keyboard keys.
As noted in one of our previous tutorials, a special "plugin" has been developed for MSFS.
Here you will find the download link for a page specific to FBW's Airbus A320: the A32NX. This page works with the Pro version of Touch Portal and has not been tested with the free version.
NB: why this page? To allow you to launch a flight lasting several hours and have the main flight information on your tablet, so you don't stay in front of your MSFS screen: useful on time meals or his favorite series for example.
Note that the A32NX has particular functions which are not taken into account by the "plugin", the content of the buttons / displays page is therefore reduced to what works well.
The page is divided into zones:
- a display area for flight data (speed, heading, altitude, etc.)
- an engine power display area in %
- a button area for lights: LIGHTS
- a zone of 4 FCU buttons: FD, AP, APPR, A / THR
- a button zone for defrosting: ANTI-ICE
- a zone with a button for arming the SPOILERS and the indication of the position of the landing gear
- an area to manage and view the speed of the simulator (1x or 2x)
- a technical area: return to the Touch portal index, modification of the size of certain titles, indication of the connection with MSFS and a "Pause" button which is equivalent to the "Esc" key on the keyboard.
The design of the buttons has been made to approximate that of the A320 dashboard as well as the background color.
Remarks : the plugin allows to send commands to the simulator and also to receive responses such as flight data displays and button lighting modifications.
So be careful to check the consistency of the button lights with what is indicated in the cockpit if you want to monitor your flight remotely.