MSFS2020
STAMPE SV4
Stampe SV4 (Restauravia) : Guy Grangeré livery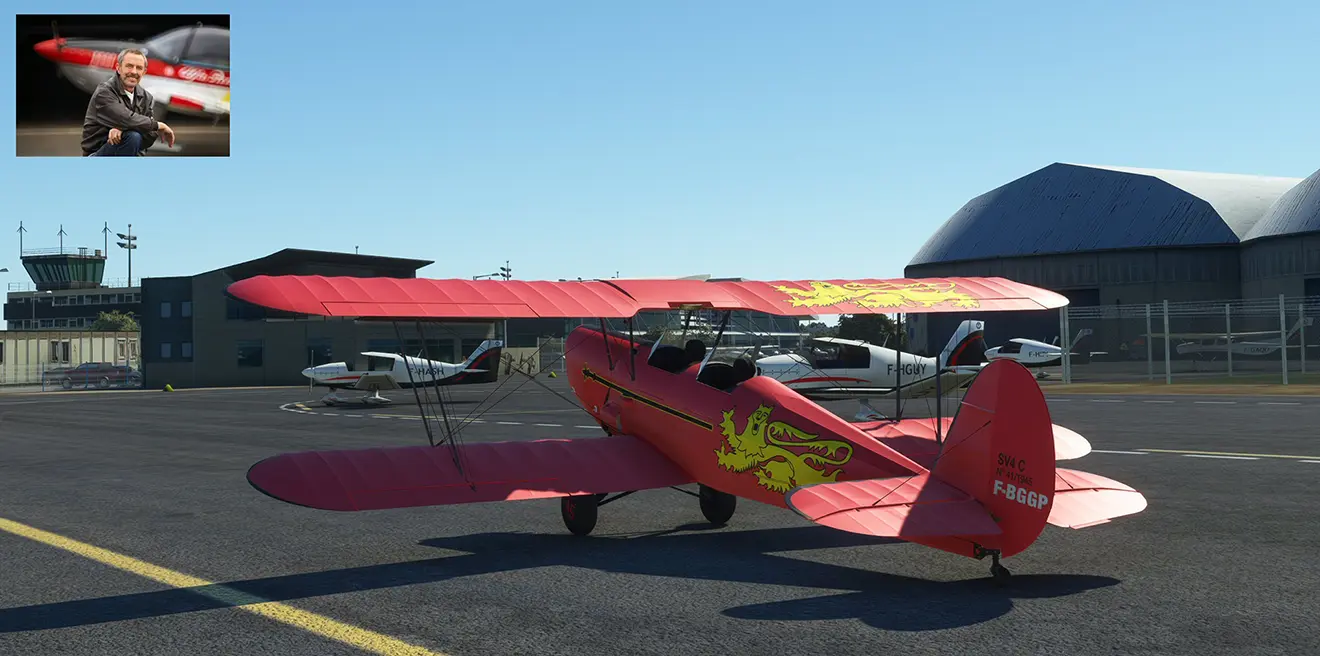 History
Guy Grangeré was a well-known civil aviation personality in French Brittany for his management of the Rennes Ille-et-Vilaine flying aeroclub (ACRIV) during 17 years.
He was able to transform this club into a powerful organization housed in a modern building suitable for training light aviation pilots.
The organization of major air meetings (Rennes-Airshow) and forums for aeronautical professions (Aéroforum) bringing together all the civil and military professions have made him a recognized personality in our world. Having stopped his aeronautical activities in 2017, a former paratrooper, he devoted himself to the organization of veterans including the "bleuets de France". He was decorated with the French Legion of Honor with the rank of Knight in September 2019.
He died in February 2023.
Guy Grangeré was the owner of a very beautiful Stampe SV4 which he had repainted in the colors of his birthtown Laval: red with a superb yellow leopard (registration F-BGGP).
Pacha35 who worked for 17 years with Guy in the organization of Rennes-Airshows and Aéroforums, wanted to pay tribute to him by creating for the Stampe distributed by Restauravia, the Laval livery of his Stampe.
It is a realization of TJ and Pacha35 (Simvol).
It is this livery that is provided here.
Installation
To use this livery, you must have installed Restauravia's Stampe SV4 in Community, which you can download at this address: http://restauravia.fr/html/msfs.html.
You must install the entire "Stampe_Guy_Grangere" folder in your Community directory (with the Restauravia aircraft).
Warning: in its current version, Restauravia's Stampe requires deactivating fault checks in the assistance menu.